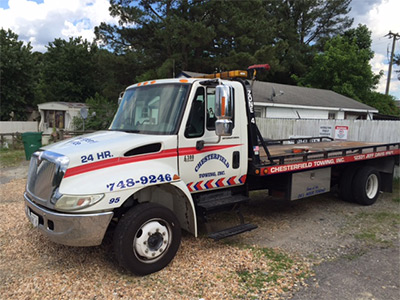 When you need a tow truck in Richmond, VA, you can always count on Chesterfield Towing Inc. Here is a closer look at what we can do for you:
Towing service: We are happy to handle all your light and medium towing needs. We have a reliable and high quality fleet of tow trucks in Richmond, VA, and we can reach a wide 50-mile service area around Richmond.
Emergency roadside assistance: If you need immediate towing and roadside assistance, Chesterfield Towing Inc. is the team to call. We have a strong reputation for responsiveness, quick work and effective results, and we work hard to maintain that reputation with every job we take on.
Truck towing service: In addition to light and medium towing services, we can also perform more heavy-duty truck towing work. We know that it's sometimes difficult to find a business with a tow truck in Richmond, VA that can support larger trucks, but you can always count on us.
Jump starts: Sometimes, all you need is a little help to get back up and running. If you are stuck in an isolated or unsafe area, your best bet is always to call the professionals. Here at Chesterfield Towing Inc., no job is considered insignificant, and we will respond to your jump start request with speed and professionalism.
Winch outs: When you are stuck between a rock and a hard place—either literally or figuratively—our team of reliable, fully licensed and insured drivers will be there to help. Our winching crew is patient and experienced, and always aims to minimize the damage as much as possible.
For more information on the above services, or to request emergency service anytime, please give us a call at 804-748-9246.